Ohio Theatre | Columbus, Ohio
Combining the delicate of the Columbus Symphony Orchestra with the gentle of the Columbus Symphony Chorus, Together they perform Beethoven's 9th Symphony! The crowning achievement of Beethoven's symphonic output, a work like no other in scale, spiritual message, and ability to unite people. The Masterwork season finale is brought to a close with what is undoubtably the Beethoven's crowning achievement.
Conductor: Rossen Milanov
Soprano: Meroë Khalia Adeeb
Mezzo-soprano: Quinn Middleman
Tenor: Dennis Shuman
Bass: Brent Michael Smith
Columbus Symphony Chorus
Chorus director: Ronald J. Jenkins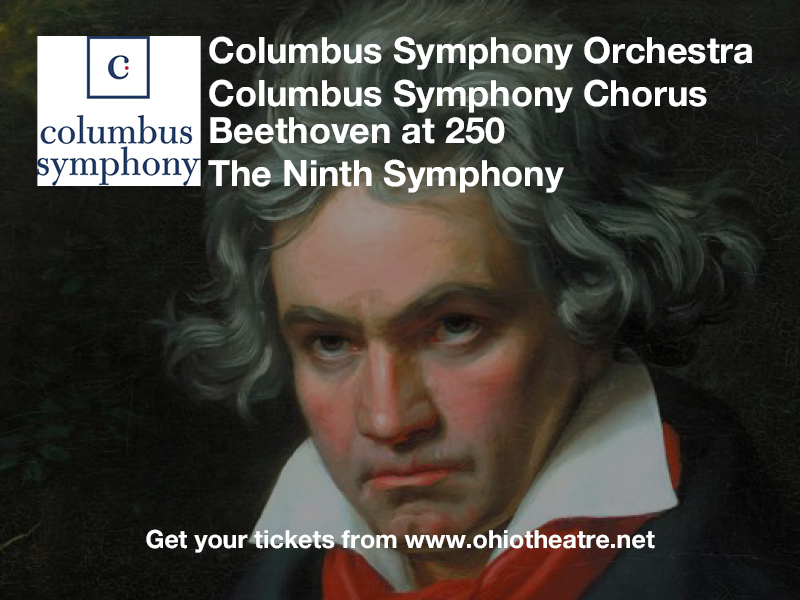 Tonight's program is:
Verdi: Stabat Mater
Beethoven: Symphony No. 9
Beethoven's 9th symphony is the final complete symphony by Ludwig van Beethoven, composed between 1822 and 1824. It was first performed in Vienna on 7 May 1824. One of the best-known works in common practice music, it is regarded by many critics and musicologists as one of Beethoven's greatest works and one of the supreme achievements in the history of western music. It currently stands as one of the most performed symphonies in the world. The symphony was the first example of a major composer using voices in a symphony, thus making it a choral symphony. The words are sung during the final (4th) movement of the symphony by four vocal soloists and a chorus. They were taken from the "Ode to Joy", a poem written by Friedrich Schiller in 1785 and revised in 1803, with text additions made by Beethoven. In 2001, Beethoven's original, hand-written manuscript of the score, held by the Berlin State Library, was added to the United Nations Memory of the World Programme Heritage list, becoming the first musical score so designated.
Prelude: Join Christopher Purdy from Classical 101 for a pre-concert discussion.