Ohio Theatre | Columbus, Ohio
Grammy Award-winning Roack and Roll Hall of Famers The Beach Boys are headed to Ohio Theatre – Columbus on Saturday 12th May 2018! Performing as part of their Wild Honey World Tour, the band are looking forward to being back on the road:
"We are so excited to begin our Wild Honey World Tour. It is such an amazing experience to witness generations of fans, from all corners of the world, come together to celebrate our music," said Mike Love, lead singer and co-founder of The Beach Boys. "It is incredible to see our fans, show after show, city after city, country after country, dancing and singing along to these songs we have loved and performed for decades."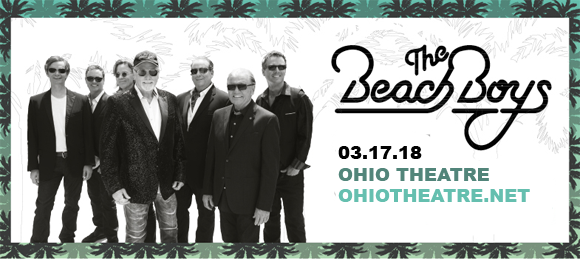 Formed in California in 1961, American rock band The Beach Boys, with their close vocal harmonies and songs about surfing, cars and love, are considered to be one of the most significant bands of the era. Led by their principal songwriter and producer Brian Wilson, the band moved away from the surf-themed garage rock of their early career into a more sophisticated sound and a more personal lyrical content. Pet Sounds, the band's 1966 album, is often considered to be one of the most influential albums of all time. The band has charted over eighty songs worldwide, with thirty-six US Top 40 hits (the most by an American rock band) and four number-ones on the Billboard Hot 100 chart. They are one of the world's best-selling bands of all time, having sold over 100 million records worldwide.