Ohio Theatre | Columbus, Ohio
Russian Winter Festival II: Exotic Masterpieces
Tonight's program is:
Prokofiev: Lieutenant Kije
Borodin: Polovtsian Dances
Rimski-Korsakov: Suite from The Golden Cockerel
Tchaikovsky: 1812 Overture
All directed by the ever sensational Rossen Milanov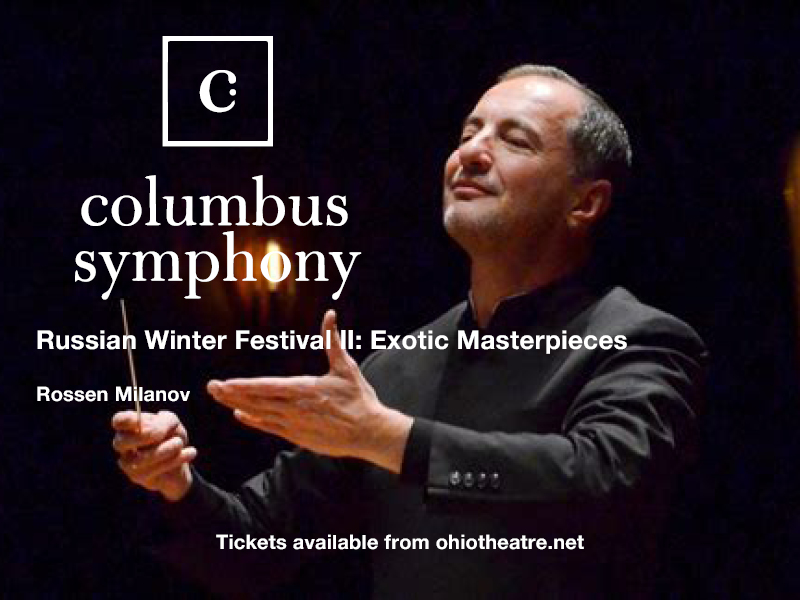 Mother Russia, Occupying 6,612,100 square miles of land making it the largest country in the world, spans multiple time zones and cultures, and Russian composers have always had a special interest in portraying the exoticism of distant lands and delivering an unsurpassed melodic beauty, combined with orchestral splendor and virtuosity. Tchaikovsky and his 1812 Overture is no different, Tchaikovsky's score is a musical account of the events that transpired during Napoleon's invasion of Russia in 1812. When over 400,000 French soldiers with their 1,000-plus cannons and artillery began marching toward Moscow. Ironic then that Tchaikovsky's 1812 Overture is perhaps best known as a musical symbol of American Independence. Boston Pops conductor Arthur Fiedler was no doubt inspired by the overture's exhilarating musical structure when he decided to include it as part of his 1974 Independence Day performance. In addition, Fiedler choreographed fireworks, cannons, and a steeple bell choir to the overture. Since then, orchestras all over the U.S. quickly followed suit, and it is now a tradition to perform the overture during Independence Day celebrations. As a result, many American's have come to believe that the piece represents the victory of the United States against the British Empire during the War of 1812. So, what are you waiting for? Go buy your tickets and we will see you at Ohio Theatre, Columbus on Friday 24th January 2020.
Prelude: Join Christopher Purdy from Classical 101 for a pre-concert discussion.
Postlude: Join us Saturday night in the pavilion for an OYO vodka tasting.