Ohio Theatre | Columbus, Ohio
What do you get when mix Radiohead with Brahms??? Well its different, and astounding! Don't miss this chance to watch Radiohead and the Columbus Symphony Orchestra. After a SOLD OUT performance in 2017, Steve Hackman's Brahms v. Radiohead returns to take you on another amazing journey of deconstruction, reconstruction and re-creation of Brahms First Symphony and Radiohead's OK COMPUTER and other hits like "Creep," "There there.," and "Fake Plastic Trees." Don't miss out! Get your tickets today! Only at the Ohio Theatre – Columbus on Saturday 9th November 2019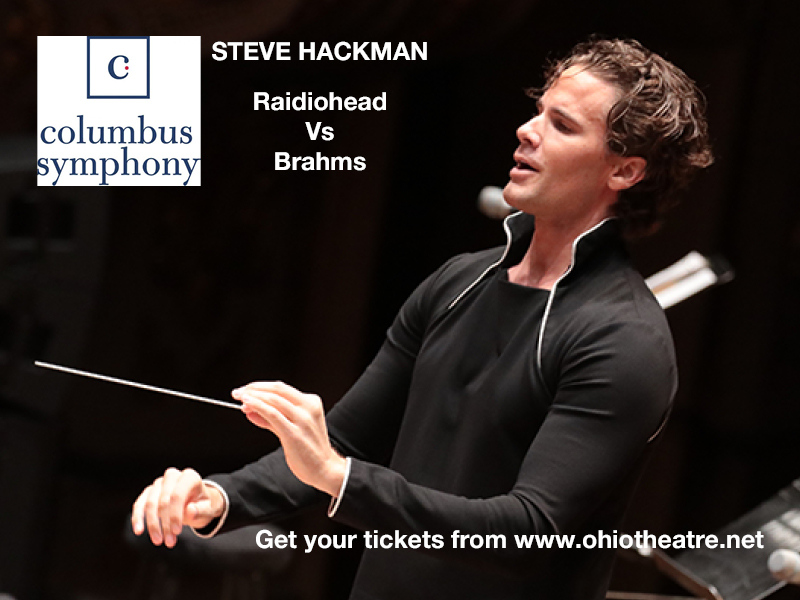 The Columbus Symphony brings back conductor, composer, arranger, songwriter, singer, pianist, and even rapper, Steve Hackman to conduct his innovative performance of Brahms v Radiohead. Hear Radiohead's melodies altered to coexist with Brahms' harmonies, for a journey into a compelling and captivating world. Featuring three vocalists singing the melodies of Radiohead, both in solo and harmony. Brahms v Radiohead is an amazing journey of discovery, deconstruction, reconstruction and re-creation of Brahms First Symphony and Radiohead's OK COMPUTER and other hits like Creep, There there., and Fake Plastic Trees.
*Radiohead does not appear in this concert
A musical visionary of incomparable gifts, STEVE HACKMAN is a daring voice leading the charge among a new generation of classical musicians' intent on redefining the genre. Equally adept in classical and popular forms, his breadth of musical fluency and technique is uncanny- he is at once a composer, conductor, producer, DJ, arranger, songwriter, singer, pianist, and even rapper. He uses those wide-ranging abilities to create ingenious hybrid compositions that blur the lines between high and pop art and challenge our very definitions thereof.
Columbus Symphony Orchestra is the oldest performing orchestra in the city of Columbus, from classical music, to hot POPS concerts. Performing out of their home in the historic 1928 movie palace the Ohio Theatre since 1951! The world's best performs with the Columbus Symphony Orchestra.