Ohio Theatre | Columbus, Ohio
Mean Girls is coming to Columbus!
The award-winning Broadway Show is live at the Ohio Theatre, Saturday 26th October 2019. Book your seats and sit back and watch in relative safety as the the hilarious story of predatory frenemies unfolds!!
Mean Girls comes to Ohio Theatre – Columbus on Saturday 26th October 2019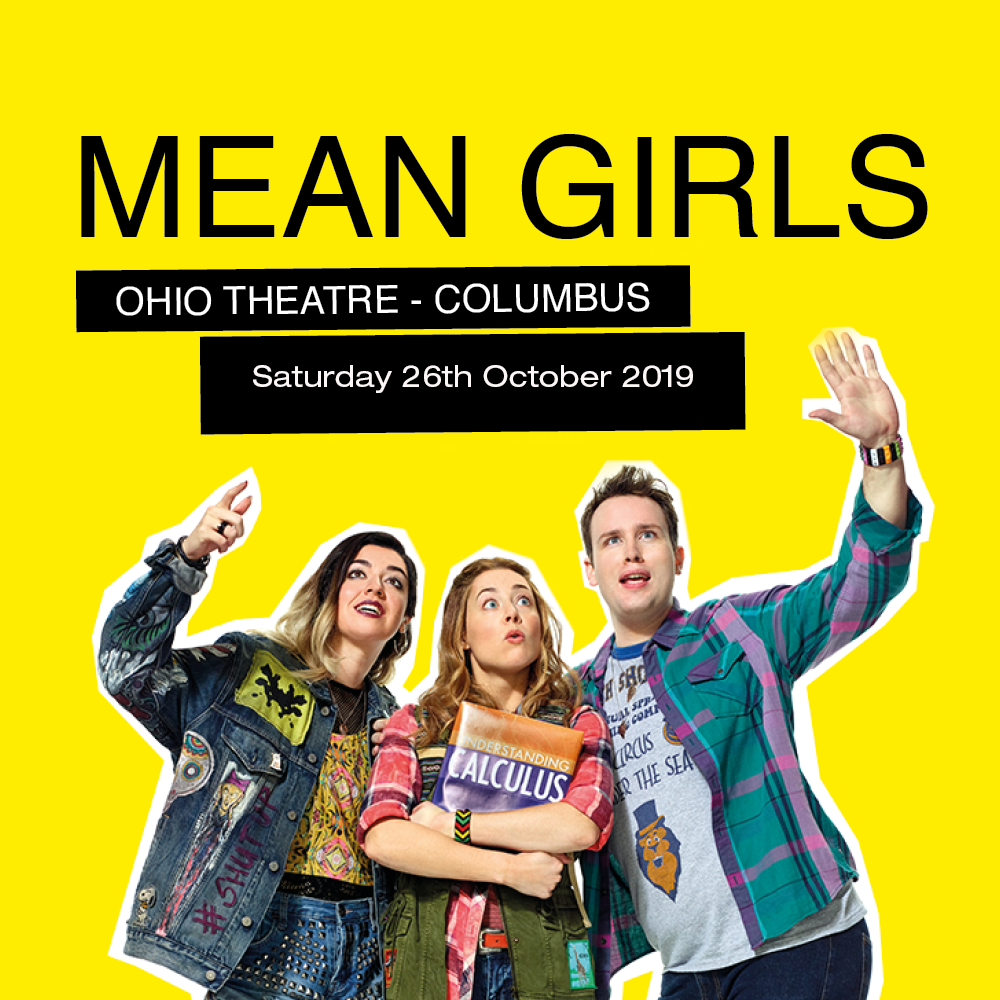 This award winning musical is live at Ohio Theatre in Columbus this October! Book your seats and experience the fast songs, the jubilant riffs which make up this epic story, where the wrong move, the wrong crush or date could spell social death and epic payback.
"MEAN GIRLS is fun." Alexis Soloski, The Guardian
MEAN GIRLS is a "ferociously funny" musical, created by an extraordinary team of creatives, and based off the hit novel written by Tina Fey (30 Rock, and Bossypants and the 2004 film of the same name:
Jeff Richmond (30 Rock and Unbreakable Kimmy Schmidt): music
Neil Benjamin (Legally Blonde): Lyrics.
"MEAN GIRLS is HILARIOUS! The cast is sensational – expert comedians with fierce voices and acting chops to match." – Vogue
MEAL GIRLS tells the story of naïve Cady Heron who embarks on an expedition of self-discovery and a battle for survival through the wilds of teenage American high school. Cady has grown up in the relative shelter of homeschooling in Africa and finds herself struggling to find her place within the cliques of school. See her meet Regina George, the Plastics and all the familiar characters. Will she cave to pressure, compromise on her values, will she rise above them all to become the new ruler of the school?
More than just a fun night out, Mean Girls has a positive takeaway: "Mean Girls is clear about a lot of stuff. Girls should support each other instead of trying to tear each other down." – Alexis Soloski, The Guardian
Hilarious! A smart, splashy new musical with immense energy and a wicked sense of humor. It's witty, worldly, and wise! – New York Magazine
Don't miss out, book your seat now! Enjoy the riotous hilarious music!