Ohio Theatre | Columbus, Ohio
Come and watch the sensational broadway show!
Don't miss out! Book your seats and watch your back!! Mean Girls is coming to Columbus this October!!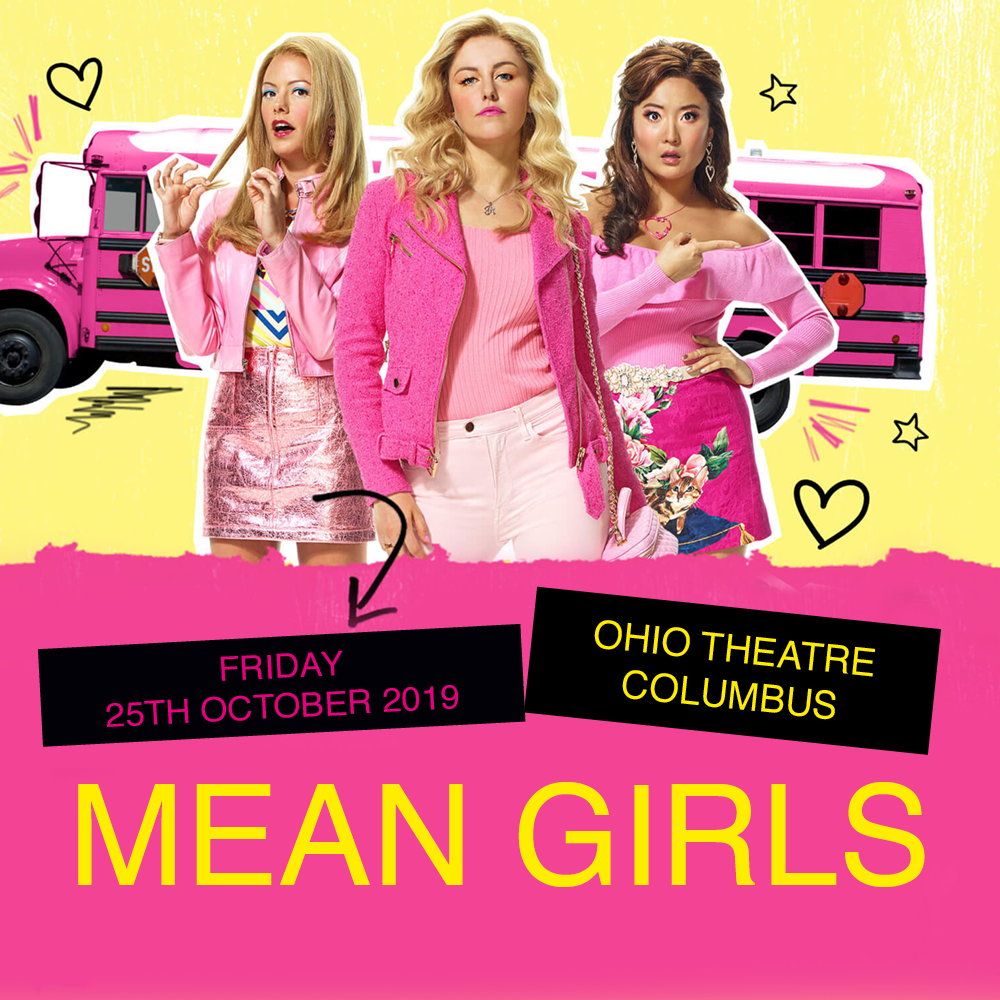 "MEAN GIRLS is a marvel: dazzling and hilarious" – Entertainment Weekly
"Broadway has waited a long time for Tina Fey's talent" – The New York Times
Starring Erika Henningsen as Cady Heron
And
Taylor Louderman as Regina George
Krystina Alabado as Gretchen Wieners
Kate Rockwell as Karen Smith
Barrett Wilbert Weed as Janis Sarkisian
Grey Henson as Damian Hubbard
Jennifer Simard as Mrs. Heron/Ms. Norbury/Mrs. George
Kyle Selig as Cheech Manohar
Kevin Gnapoor as Aaron Samuels
Rick Younger as Mr. Duvall
Cady Heron is the new girl at school. Living in the African bush has left her unprepared for the ruthless politics and the Plastics. Book your seat to watch as she finds her place in the food chain. This award-winning musical show is based on the hit movie and novel by Tina Fey.
Cady starts at a new high school and falls for the dreamy Aaron, but this soon causes complications with the ruling clique – the popular Plastics led by the queen bee – Regina George. Witness Cady's winter makeover and her battle to rule the jungle of high school. Enjoy the hilarious comedy, appreciate the spectacular show tunes and lyrics from the safety of your seat in the audience. You want to sit with the cool kids, but it's definitely safer to sit in the audience and watch the spectacle unfold.
Book your seats at Ohio Theatre this October for a fun-filled night of music, fierce rivalries and clever lessons on what it means to fit in and be true to yourself.
Music by Jeff Richmond
Lyrics by Nell Benjamin
Directed and choreographed by Casey Nicholaw
Book by Tina Fey
Book your tickets now!! You know you wanna sit with us!!
"MEAN GIRLS is HILARIOUS!" – Vogue
Reserve your seats now.